When it comes to my Catholic faith, I am always looking for inspiration to become a stronger follower of Christ. There are a lot of challenges to being a Catholic man in today's world and there are forces present whose sole purpose is to sway us away from Christ and His Church. If you read Bishop Olmsted's exhortation, Into the Breach, you know that we are in a battle with Satan. Everywhere we look souls are falling dark from sex and other sins of the flesh, material obsessions, and an all-around worship of the self.  The dignity of human beings is being slaughtered and within our own Church there are people falling victim to the pressures of the secular world. The sad thing is, much of the world condones it, or at least turns a blind eye.
The voices behind the current moral degradation of our society are loud, and many are afraid to fight back for fear of backlash.  There needs to be more brave voices who stand for righteousness and purity. More importantly, we need more male voices. Masculinity has been warped into something "fluid" (*eyeroll*), and we are expected to either act like a bunch of bumbling Neanderthals or meek saplings without a spine. We need more real men to stand up and remind us what God called His sons to be.  Enter, The Catholic Man Show.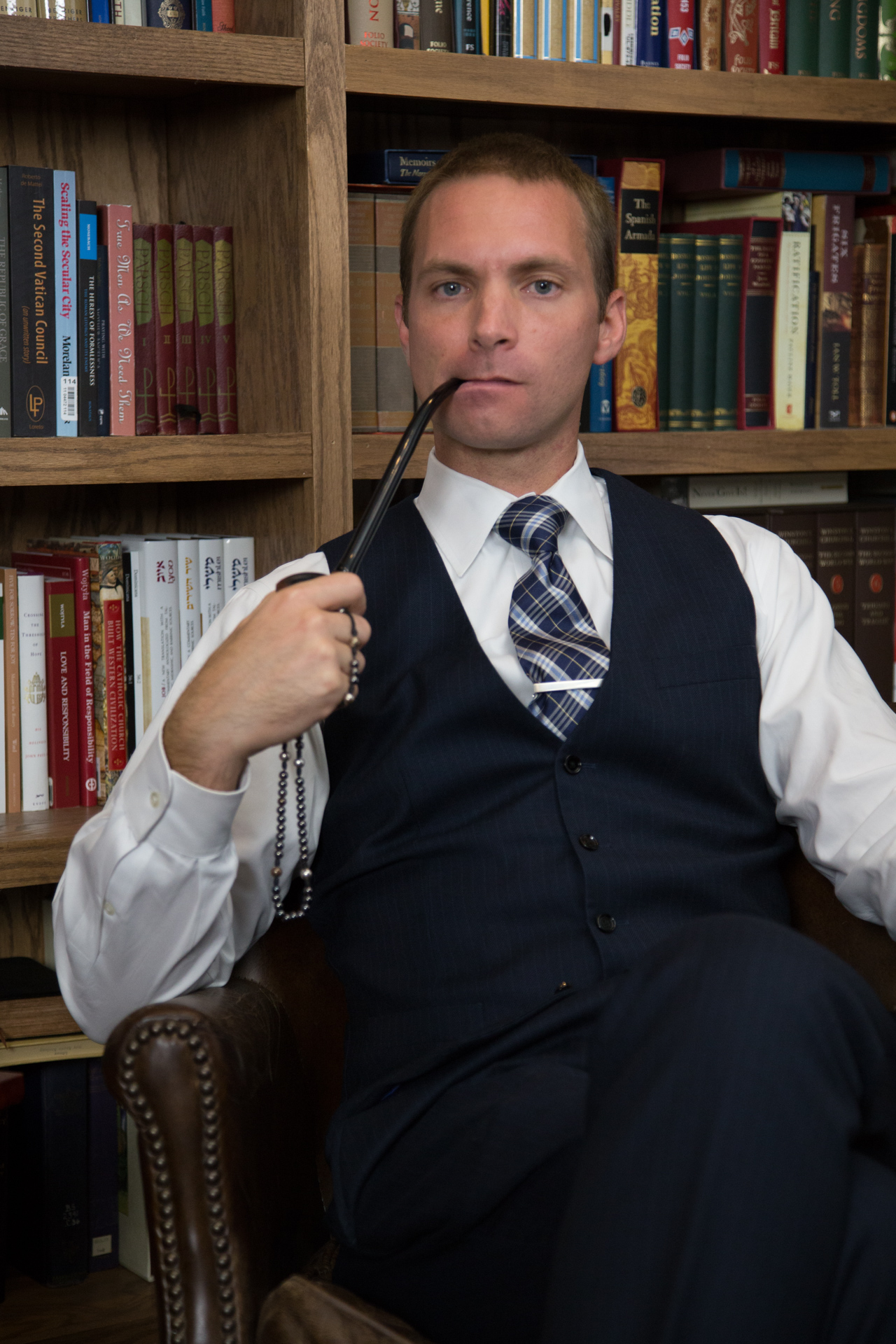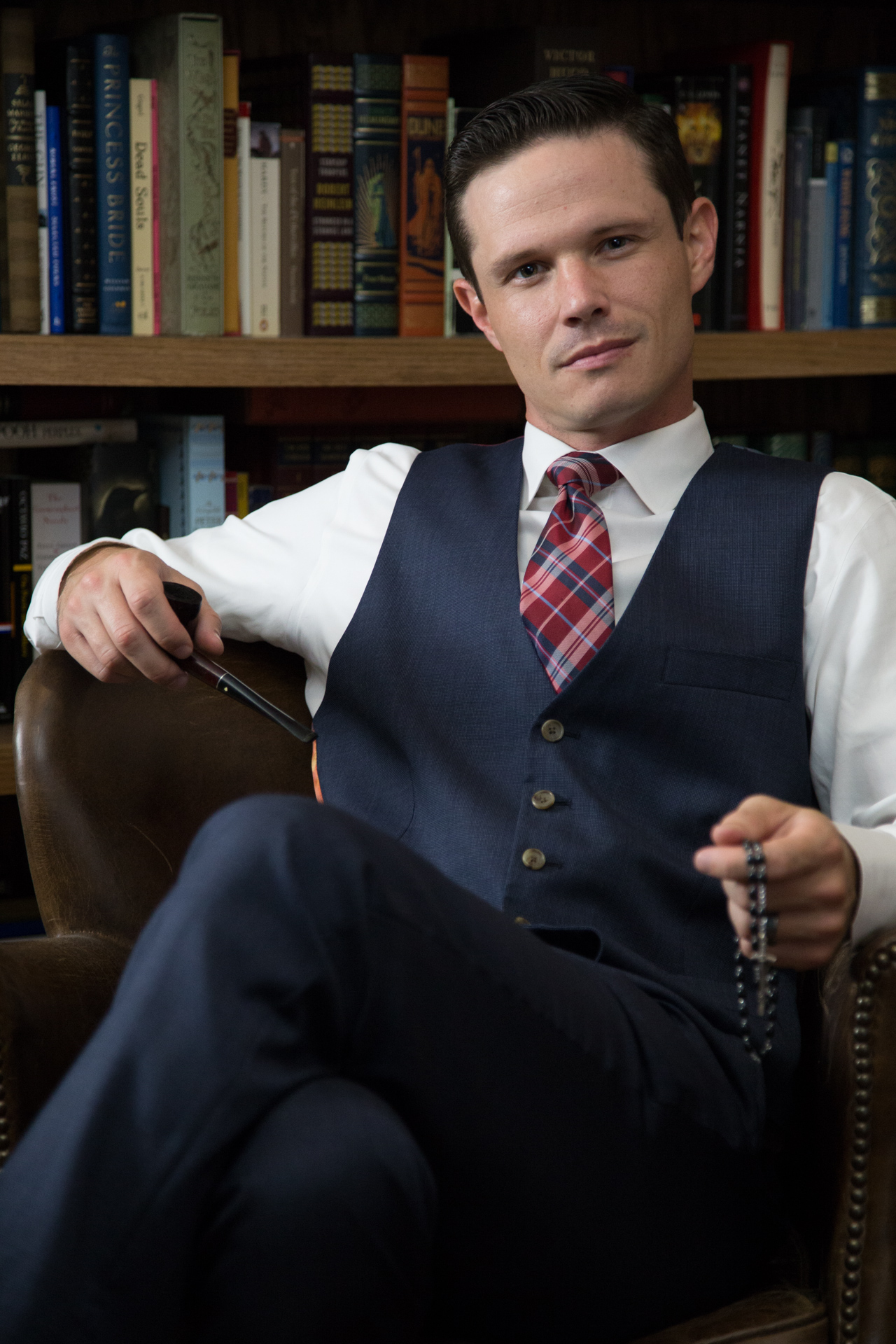 (Left: David Niles; Right: Adam Minihan) Look at these two. It's like they're about to give you a rosary you can't refuse. #catholicmafia
The Catholic Man Show (TCMS) is the brainchild of, and co-hosted by, Adam Minihan and David Niles. Adam and David air the show on St. Michael Radio, which they both founded in 2014 in Tulsa, OK.  TCMS brings you real and upfront discussion on what it takes to be a true Catholic man, and they deliver it in a fun and easy-going manner. When the show begins, a voice booms with a warning of the manliness you are about to encounter. You can't help but heed the voice's advice because it sounds like it's coming from Optimus Prime as he prepares the Autobots for battle against the Deceptacons. Check out the intro on the show's YouTube channel here.
Then comes the intro music, belting out a ZZ Top-esque blues riff that makes your 5 o' clock shadow grow in an hour early. By now, if you're not stomping your foot and pumping your fist in the air, you better check your pulse. In comes the welcome followed by the show's motto: We are on the Lord's team. The winning side. So raise your glass. You'll hear this "call to arms", if you will, before every commercial break and after every toast, followed by a cheers to Jesus. How manly is that?! It takes a real man to tell the world that you love Jesus!
During the show, Adam and David crack open the week's many beverage, which is usually a beer or liquor of some sort. The guys are quite fond of scotch and craft beer, so if that's your bag you'll love this segment of the show. Adam and David give a toast and a cheers to Jesus, and then discuss the beverage in detail. They know their stuff and are very detailed in their descriptions, so after you listen to the critique of the beverage, you'll more than likely be watering at the mouth.
#catholicswag
After the beverage, the show moves on to a piece of man gear, which can be anything from a rosary, a hatchet, or a flame thrower. Yes, you read that correctly: A FLIPPING FLAME THROWER! I'm sorry, but can you honestly tell me you've ever heard another radio program connect a flame thrower to the everyday needs of a man?! I didn't think so. The Catholic Man Show is setting the bar high, y'all!
David and Adam talk with Mike Miley of Rival Sons
Finally, Adam and David bring in the meat and potatoes of the program: a manly discussion of an important topic, which almost always includes an awesome guest. The guys have legit Catholic guests on the show, such as Patrick Coffin, Bear Wozniak, Raymond Arroyo, and Mike Miley (you know, the drummer for the rock band RIVAL SONS!). I mean, come on! So cool! During this segment, Adam and David, along with their guest, talk about things that Catholic men face every day: chastity, porn addiction, fatherhood, divorce, workplace struggles, social and moral issues, and even yard work. No topic is too big or too small to talk about on TCMS.
David and Adam were recently guests on The Patrick Coffin Show. #nbd
At the end of every show, you are left with a renewed sense of pride and confidence. You are reminded of how important your role is as a Catholic man in today's world. Each week during the show, you are called to defend your faith and your family, and prepare for the day Our Father calls you home. It doesn't matter where you are in your journey; lukewarm or on fire. The Catholic Man Show welcomes and inspires all.
In addition to the weekly radio program, The Catholic Man Show offers you a membership to the Council of Man, a private Facebook page where are you given access to exclusive TCMS content, and have the opportunity to interact with other Catholic council members, many of whom are the big-name guests I mentioned earlier. I am personally a Council of Man member and I have met new friends and had the opportunity to receive the help and support of many great Catholic men. This is an important resource to have as you journey along your walk with Christ and are in need encouragement when you are in the middle of a battle. There are also several guys who are connoisseurs of cigar and pipe smoking, and fine liquors and beers. You'll learn so much just by reading the posts on the council page. G. K. Chesterton would be so proud.
Not for the faint or frilly
Oh, and do you like camping? Well, as a member of the Council of Man, you will have a chance to go on the First Annual Catholic Man Show camping trip at the Clear Creek Monastery in October 2017. Camping, good food and beverages, and Catholic camaraderie. Talk about a gathering of manliness!
There is no better way to celebrate being a Catholic man than tuning in to The Catholic Man Show, where you get a hearty dose of Catholic masculinity, funny and encouraging entertainment, and the push you need to follow Christ.
So stand up, grab your rosary and a dram of your favorite beverage, and tune in to The Catholic Man show. Whichever adversity you face, or battle you are called to, remember one thing: We are on the Lord's team, the winning side. So raise. Your. Glass.
Cheers to Jesus.
So classy
You can tune in to The Catholic Man Show every Thursday at 7 PM Central on St. Michael Radio. You can also subscribe to the podcast on Apple iTunes, and while you're there give the show an awesome rating!
https://thecatholicmanshow.com/